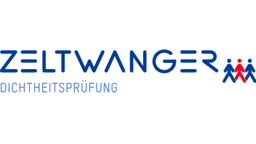 Pressure difference leak test system ZEDbase +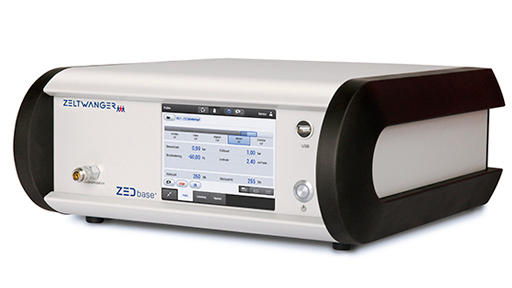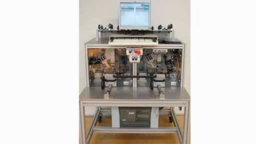 Product Features:
PC-based control with powerful multi-core CPU and Windows Embedded 7
Measuring ranges: -500 to +500 Pa, -1000 to +1000 Pa, -2000 to +2000 Pa
Test pressure ranges: 0-6 bar (24 V DC version), 0-10 bar (24 V AC version), optionally 20 bar
Resolution: 0.01 Pa
Pulse valves with switching times in the millisecond range
Test medium: compressed air (oil - and water-free according to ISO 8573-1 class 3)
6.5 "TFT color display with touch screen, graphic representation of the measurement process
Sequential tests / parallel test (with RD-Dual)
Electronic pressure regulator
Automatic test pressure monitoring
Self- test function and statistical function, data storage of over 1,000,000 test results
1,000 freely parameterizable test programs
Automatic volume determination with a reference leak
Control options: PROFIBUS / PROFINET, barcode control (RS232), Ethernet (Modbus), RS232 (Modbus)
configurable digital Inputs and outputs
USB and Ethernet interfaces for data export in CSV, XML or SQL (test programs, results)
Leak simulation connection for connecting a test leak or leak calibrator
RS232 interface for the leak calibrator
Control of ZEDsatellite
Power supply: 24 VDC (+10 / -5%) 5 A
Dimensions (H x W x D in mm): 410 x 175 x 425
Weight: approx. 12 to 15 kg
Description:
The air leak test system ZEDbase+ by Zeltwanger is a cost-efficient single-channel compact system.
The principle of operation is the differential pressure method, in which the component tightness is checked by comparing a test part and a reference volume or a second test part. The complete measuring technology with electronic pressure control and the evaluation electronics is integrated in the portable housing, test objects and reference volumes are connected via quick-release couplings. The use of pulse valves with switching times in the millisecond range minimizes thermal influences on the measurement. The maximum test range is 20 bar. With a resolution of 0.01 Pa, three graduated measuring ranges are available: -500 to +500 Pa, -1000 to +1000 Pa, -2000 to +2000 Pa. The powerful modular software provides extensive functions for parameterization, operation, visualization and evaluation. Operation is carried out via a 6.5" TFT color display with touch screen and a menu-driven graphical user interface. A wide range of interfaces, including Ethernet and USB interfaces and Profibus, is available in order to export measurement data and to integrate the test system into applications, such as for instance testing of automotive components such as complete engines, cylinder heads, gearboxes, heat exchangers, control electronics, batteries, electrical lines, valves, fuel cells and pumps. Other test items are catheters, dialysis filters/boxes, rinsing/hose systems, secretion canisters, syringes, external lungs and dosing pumps, plastic bottles, cartridges but also water switches/pumps, gas valves/fittings, stoves, compressors and cylinders, safety/non-return valves, couplings, grippers, ball valves and seals. Important user sectors are the automotive and automotive supply industry, medical technology, packaging, cosmetics and household appliance manufacturers.