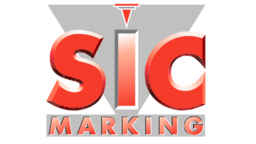 Portable needle markers e10-p63 / 123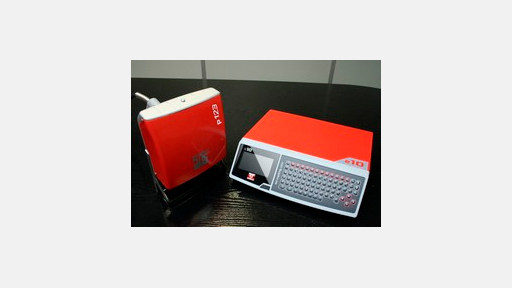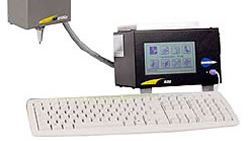 Product Features:
Marking system with portable needle marking unit
Dimensions: 287mm x 132mm x 204mm, 287mm x 200mm x 209mm
Marking area (depending on model): 60 mm x 25 mm, 120 mm x 25 mm, optionally 120 mm x 40 mm
Flat, concave, convex or uneven surfaces can be marked
Marking speed (typical): 2 characters / s
Compensation of unevenness of up to 3 mm
Positioning aid: Plastic-coated front panel with V-cutout
Positioning: Adjustable workpiece distance
Markable components: plastic and metal with a hardness of up to HRC 62
Length of connection cable: 7.5 m (optional 15 m)
Interfaces: I / O, RS232, RS422, USB (RS485 Profibus and TCP / IP Ethernet optional)
Mobile use possible with optional cart
Weight marking unit: approx. 3.5 kg
Stationary use possible
Description:
The portable needle markers e10-p63 / 123 are used for permanent marking of components with plain texts, logos or 2D matrix codes. The versatile system consisting of marking unit and controller is suitable for marking with manual handling, e. g. of heavy or very large components. An optional cart allows for mobile use whilst stationary mounting is prepared. Due to the robust design, the system is applicable in industrial production conditions with very high loads. Suitable materials are plastics and metals up to the hardness of HRC 62 with a marking field of max. 120 mm x 25 mm (optionally 120 mm x 40 mm). Operation and programming are carried out using comprehensive and easy-to-use software with navigation menu via the e10 controller unit or an external PC. For integration into networks as well as for integration into applications RS232, RS 422 and USB interfaces as well as 8 freely configurable digital inputs and outputs, optionally RS485 Profibus and TCP / IP Ethernet are available. Typical applications are in the heavy industry, in the fittings and steel industry, in the production and processing of sheet metal and tubes, and in the automotive and automotive supply industries.