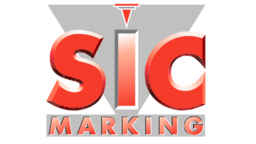 Stationary electromagnetic needle marking unit ec1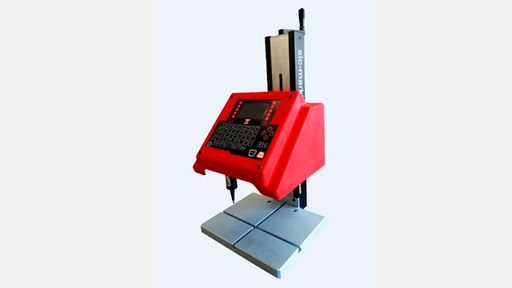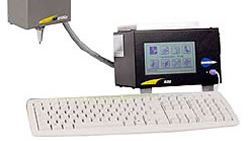 Product Features:
Stand-alone electromagnetic dot peening station with integrated control unit
Marking speed: max. 2.5 characters / s
Marking area 120 mm x 100 mm
Marking on all materials up to 62 Hrc
Character height adjustable from 0.1-99 mm
DataMatrix and QR codes possible
Integrated color screen with preview function
Integrated industrial keypad
Memory for marking data: 100 MB
Desktop device with height-adjustable stand
Angle and arc labeling possible
Interfaces: USB
Height adjustment: 170 mm
Dimensions: 311 mm x 300 mm x 635 mm, 16 kg weight
Rotary axis for workpieces up to 150 mm in diameter and max. 6 kg weight
Description:
The stationary electromagnetic needle marking unit ec1 is a low-cost desktop device with integrated control unit for permanent component marking with plain texts and freely selectable logos. The systems consisting of marking unit and integrated controller on a manually height-adjustable stand are used to set up manual or semi-automatic dot peening workstations. They are designed with robust construction and protective covers for industrial manufacturing conditions. Suitable materials are plastics and metals up to a hardness of HRC 62 in a marking field of 100 mm x 100 mm. A speed of maximum 2.5 characters / s is achieved with a font height of 0.1-99 mm. The marking task is set up on the combined control and marking unit with integrated membrane keypad and display to navigate without special previous knowledge. For integration into applications RS232 and USB interfaces are available. With the stationary dot peening unit ec1 permanently clear markings as well as freely selectable logos can be generated. ec1 units are suitable for marking smaller series or fast changing products. An axis of rotation allows the marking of workpieces up to 150 mm in diameter. Due to the electromagnetic drive, the marking system distinguishes itself from the pneumatic drive by a reduced noise during marking. Typical applications can be found in the automotive and automotive supply industry, as well as in the fittings and steel industry and in the production and processing of sheet metal and tubes.