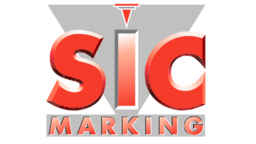 Needle marking table devices c153 / c303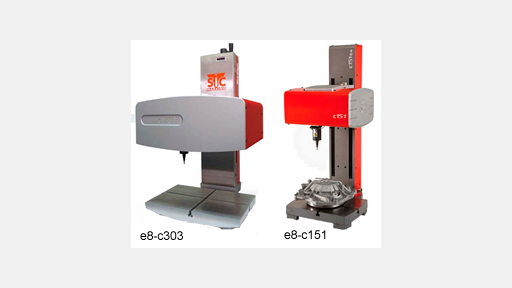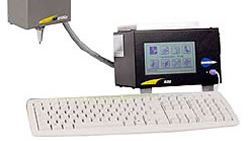 Product Features:
Electromagnetic needle marker as a tabletop unit with manually height-adjustable stand
Marking area (depending on model): 160 mm x 100 mm, 300 mm x 150 mm
Marking speed: max. 5 characters / s
Marking on all materials up to 62 HRC
Travel distance: max. 270 mm (extension possible)
LED lighting
Dimensions: 385 x 350 x 704 mm, 386x412x704 mm
Weight: 28 kg, 30 kg
Controller e10 with integrated LCD display and membrane keypad: Character height from 0.1-99 mm, Style: Angle and arc inscription, inverted, mirrored, Power: 9 - step control, Interfaces: RS232, RS422, USB (RS485 Profibus and TCP / IP Ethernet optional), Memory: 71102 kB, Digital inputs and outputs: 16, Dimensions: 322 x 380 x 112 mm, Weight: 5 kg
Description:
The needle markers c153 / c303 with electromagnetic dot peening systems are tabletop devices for permanent component marking. The marking head is mounted on a column with height adjustment via a hand crank. The needle markers c153 / c303 produce freely programmable markings with flexible contents such as plain text, graphics, logos or codes. Their sturdy design and protective covers make the powerful dot peening station suitable for industrial manufacturing conditions. Markable materials are plastics and metals up to a hardness of HRC 62 in a standard marking field of maximum 300 mm x 150 mm. The needle markers achieve a speed of a maximum of 5 characters / s at a font height of 0.1-99 mm or up to the size of the marking window. The marking task can be set up directly on the e10 controller using the user-friendly navigation menu without special programming knowledge via an integrated membrane keyboard and an LCD display. For integration into applications, there are 16 digital inputs and outputs, RS232 and RS422 serial interfaces and a USB interface available. RS485 and Ethernet interface are optional.
The needle markers c153 / c303 are suitable for marking smaller series or fast changing products. Due to the electromagnetic drive, the system distinguishes itself from the pneumatic drive by a reduced noise load during the process. Typical applications can be found, for example, in the automotive and automotive supply industries, in the fittings and steel industry, in the manufacture and processing of sheet metal and pipes, and in other industries.