Customized press workstations with manual loading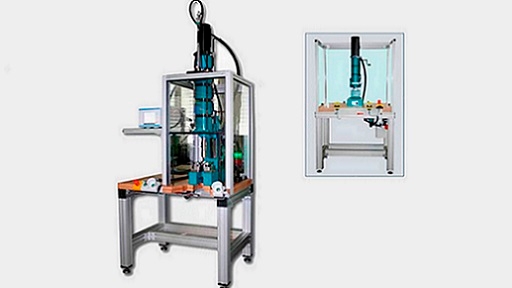 Product Features:
Semi-automatic assembly and press stations with pneumatic or manual presses
Set-up with tried and tested standard components
Turnkey delivery with customer-specific equipment
Manual loading and unloading
Quick tool change possible with standardized system
Twist-proof presses with four- Monitoring and documentation possible
Pressing forces: hand presses max. 15 kN, hydro pneumatic max. 100 kN
Full pressing force in the printing direction
Stroke: 0-120 mm
Description:
Customized press workstations distributed by mäder are turn-key workstations with manual loading for pressing, joining, forming or separating with pressure forces up to 100 kN. Typical task areas are joining and pressing processes during assembly, as well as forming and cutting processes in the machining of workpieces in which high speeds are not required. Pneumatic presses, hydro pneumatic presses, manual rack-and-pinion presses or hand-supported toggel pneumatic presses are equipped. The loading and unloading takes place by manual insertion in the workpiece fixtures, which can also be mounted on sliding tables with manual or pneumatic actuation. For applications where a precise torsion-proof guidance of the tools is required, presses with four-bar tappets are used. The press workstations are application-specific workstations with manual feed for the production of small and medium series. A standardized tool changing system allows a quick and easy exchange, which also allows changing products within certain limits. Production in monitored and documented quality is possible, for example in the automotive supply and automotive industry, medical technology, mechanical engineering, electrical engineering and precision mechanics, as well as in the workshop sector.